1 min ago
That's it from me, Lauren – here's my colleague Michelle Hennessy to take you through the next updates.
1 min ago
Russia should feel the "full weight" of sanctions and should not underestimate the solidarity of Ireland and other countries with Ukraine, she says.
"Ukraine lives. Ukraine breathes. And Ukraine will go on."
4 mins ago
"It is long past time for Ambassador Filatov to be expelled from Ireland," McDonald says, drawing applause in the Dáil. She repeats the call strongly in Irish.
5 mins ago
Next up is Sinn Féin leader Mary Lou McDonald.
Instead of trying to find peace, Russia has escalated its attacks by targeting civilians, she says.
She says that the Russian embassy in Ireland has acted as a force for propaganda about the war.
"The Russian ambassador wants us to ignore the evidence before our eyes."
8 mins ago
Green Party leader Eamon Ryan says Ireland will need to "stay the course" in resisting Russia and fighting for Ukraine.
"Staying the course will be difficult but I expect this house and our people are up for the challenge, one of the greatest ones of our time," he says.
11 mins ago
Our political correspondent Christina Finn is in the Dáil's gallery this morning for Zelenskyy's address and politicians' responses
13 mins ago
Watch it back: Zelenskyy told the Dáil that there is a 'new page' of relations between Ukraine and Ireland and that it is "only a matter of time" before they are together in the EU

Source: TheJournal.ie/YouTube
14 mins ago
Varadkar says Ireland "no quarrel with the people of Russia" and admires protestors who are demonstrating in the streets.
"But for those responsible for this conflict, we have a simple message: Your actions will never be forgotten. They will never be forgiven."
He says Russia has united Europe and the west and strengthened Ukraine's national identity.
And again, he ends his speech: "Slava Ukraini."
17 mins ago
Next to stand in the Dáil is Tánaiste Leo Varadkar.
Zelenskyy is no longer on the virtual call, but Varadkar thanks him for speaking to the joint sitting this morning.
Varadkar says Ireland knows "what it's like to be invaded" and to have its identity questioned.
"We're heartbroken to see what the people of Ukraine have had to endure for 42 days."
20 mins ago
The Taoiseach thanks people in Ireland who have opened their "homes" and "hearts" to refugees from Ukraine.
"We stand with Ukraine. Slava Ukraini."
22 mins ago
Watch it back: Ukrainian President Volodymr Zelenskyy tells TDs and senators that Russia is using hunger as a weapon against the people of Ukraine and speaks about the horror of the siege of Mariupol.

Source: TheJournal.ie/YouTube
23 mins ago
The Taoiseach says Ireland will support any action that can lead to an immediate ceasefire.
Taoiseach welcomes Ukraine's EU application
25 mins ago
"This war touches us all and that is why Ireland is supporting further European sanctions," Martin said.
"We need sanctions that will bring it home to Putin and his regime that he cannot and will not succeed."
The Taoiseach says he welcomes Ukraine's application for membership of the EU.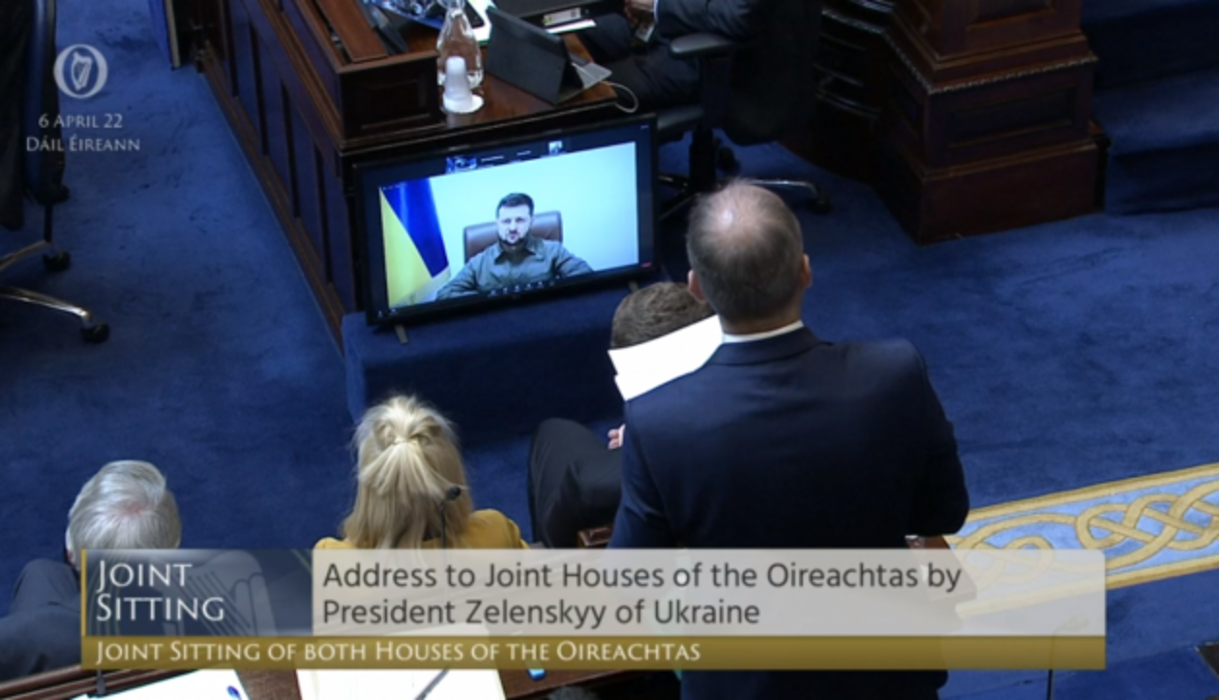 Source: Oireachtas TV
27 mins ago
"Russia will have to live with the shame and ignominy of what they have done in Ukraine for decades," the Taoiseach says.
"I am certain that in the end, Ukraine will prevail."
He says Ireland is militarily netural but not politically or morally netural "in the face of war crimes".
28 mins ago
Taoiseach Micheál Martin is speaking now in response to Zelenskyy's speech.
"Ireland is resolute in our solidarity and support for Ukraine," he opens.
He thanks Zelenskyy for his "heartfelt" and "historic" address.
29 mins ago
The Ceann Comhairle and others are wearing blue-and-yellow striped ties in tribute to the colours of Ukraine's flag, with a lot of blue and yellow included in outfits around the chamber this morning.
32 mins ago
Pictured: The standing ovation in the chamber after Zelenskyy's speech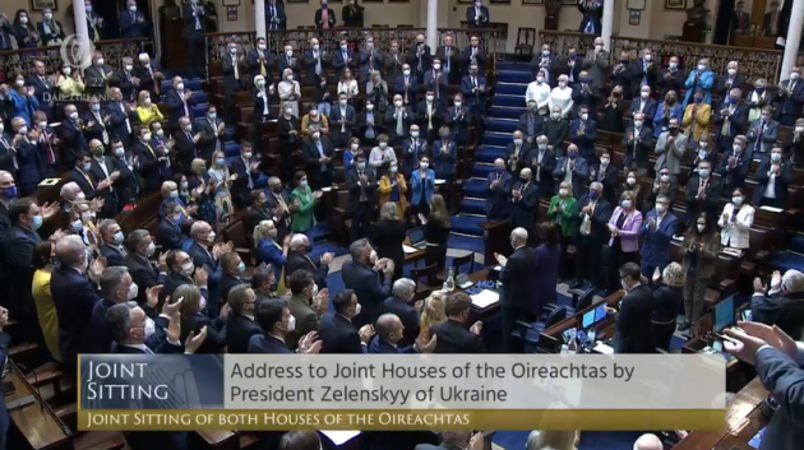 Source: Oireachtas TV
32 mins ago
There's a strong wave of applause for about half a minute in the Dáil as TDs and Senators stand to their feet.
33 mins ago
His final words: "I'm grateful to Ireland. Slava Ukraini."
34 mins ago
"We need to start thinking about restoration of our country after the war," the Ukrainian president said.
He said Ukraine is inviting countries to help rebuild the country.
"Ireland is always welcome to do so."
35 mins ago
He said there are still some political leaders in the world who do not believe that stopping Russia is more important than any financial loss to other countries from sanctions.
"I am sure your leadership can make a difference and change this."
35 mins ago
Some more images as the address continues, from the Oireachtas livestream: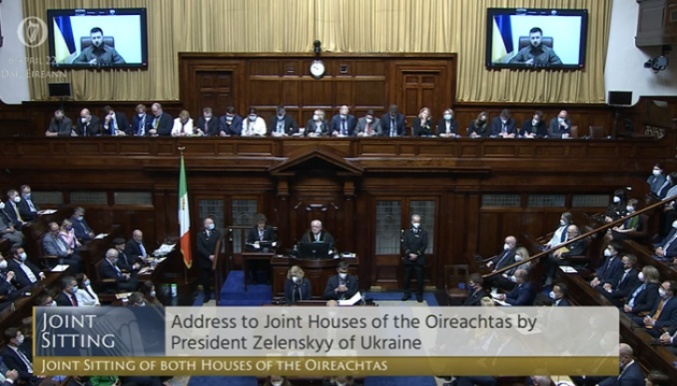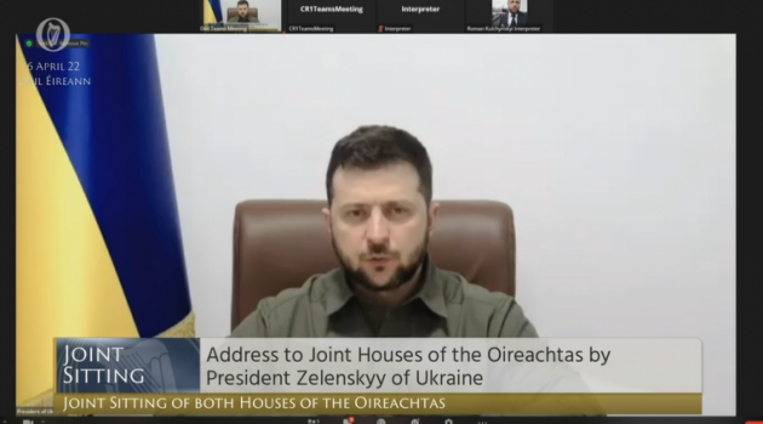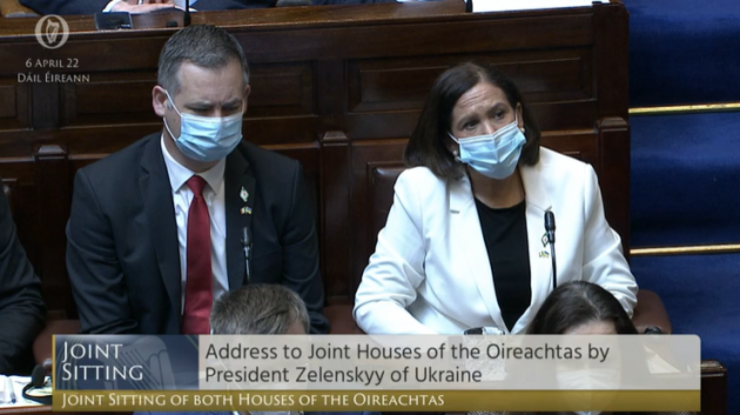 36 mins ago
He asked Ireland to push other EU countries to impose more sanctions on Russia and cut it off from global markets and its income from oil.
36 mins ago
Directly referencing Ireland's response to the invasion for the first time, Zelenskyy said: "Even though you are a neutral country, you have not remained netural to the… mishaps Russia has brought to Ukraine."
"I am grateful to you. To every citizen on Ireland, thank you for supporting sanctions against Russia."
He also thanked Irish people for their humanitarian donations
38 mins ago
"When we're hearing new rhetoric about sanctions against Russia, I can't tolerate any indecisiveness after everything we have gone through and everything Russia has done," Zelenskyy said.
"We still have to convince, even some European countries, to abandon the Russian market."
39 mins ago
Russia is trying to destroy "everything that makes us Ukrainians", he says.
40 mins ago
Pictured: Zelenskyy addresses TDs and senators live over video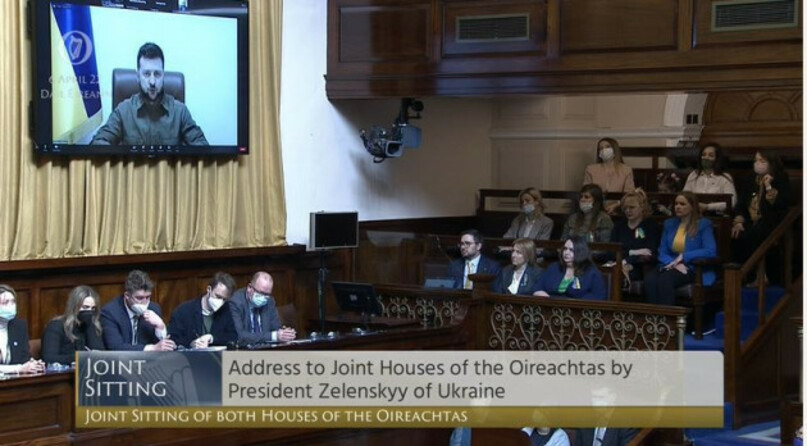 41 mins ago
"In the 42 days of all-out Russian war, at least 167 children were killed in Ukraine," he said.
"We don't know yet all the atrocities of Mariupol and victims in other areas of Ukraine where fighting is still going on."
42 mins ago
Discussing Russia's actions, he says it "may seem none in the present day world would dare to do this but these are the facts".
42 mins ago
Russia is not allowing food or other basic supplies to enter Mariupol, Zelenskyy describes.
He says countless homes have been destroyed in the city after the weeks of brutal attacks.
44 mins ago
"They are destroying our infrastructure and deliberating provoking food prices," Zelenskyy says.
He says Russia is using hunger as a "weapon".
45 mins ago
Zelenskyy opens by describing Russia's actions against Ukraine, saying it is destroying things that are sustaining people's livelihoods like storage facilities for food and fuel and agricultural equipment, as well as putting mines in fields.
47 mins ago
Ceann Comhairle Seán Ó Fearghaíl has just opened the joint sitting. 
Ukrainian President Volodymyr Zelenskyy is waiting virtually to speak in a few minutes.
51 mins ago
You can also watch the livestream here:
55 mins ago
The joint sitting of TDs and senators that Zelenskyy will speak to is due to start in just under ten minutes – it'll be streamed live on the Oireachtas website.
We'll have up-to-date coverage of his speech and the chamber's reaction here on The Journal.
9:45AM
Here's the last map from the Press Association on Russia's movements in Ukraine: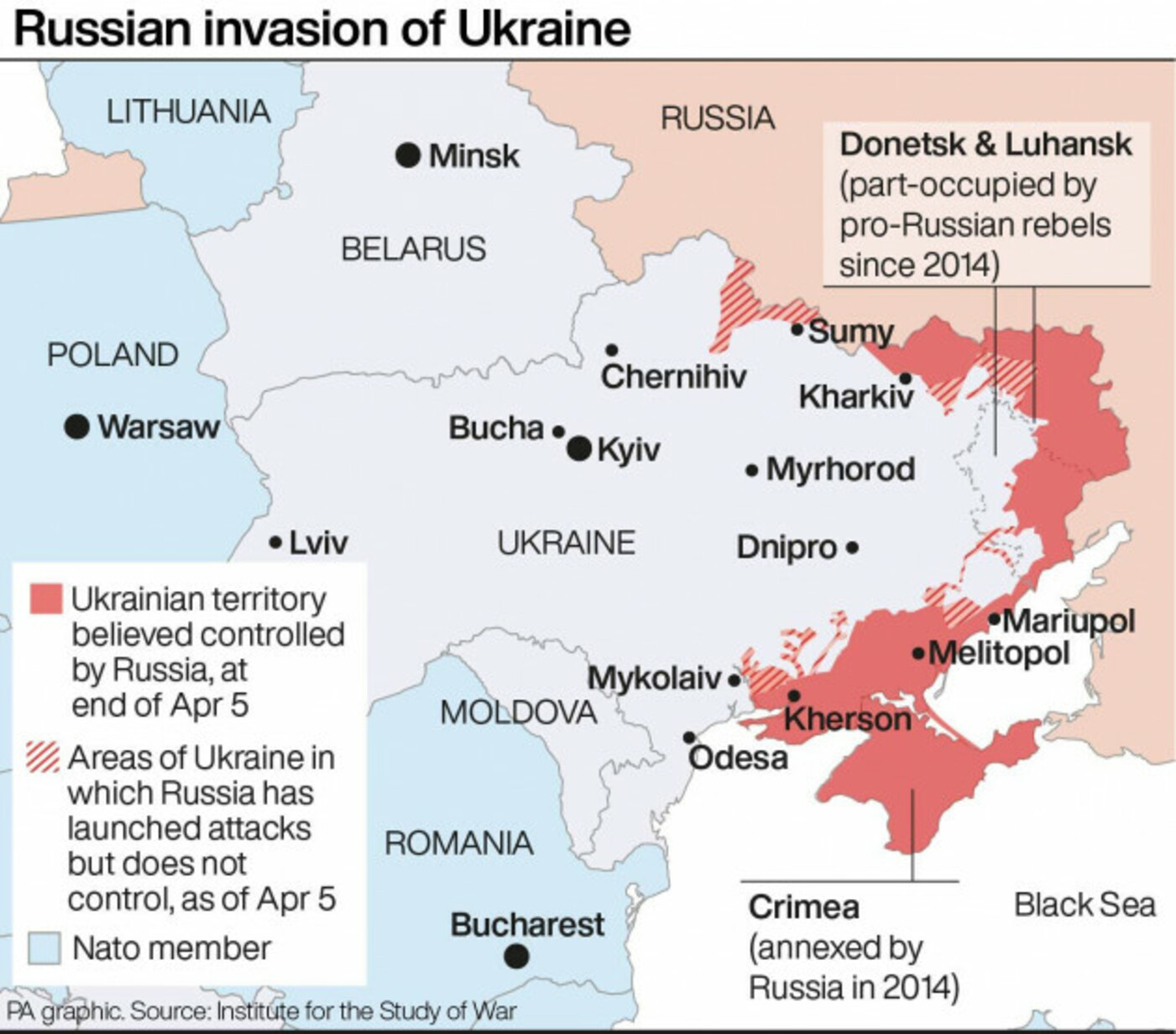 Source: Press Association Images
9:24AM
The Pope has commented on the war in Ukraine again this morning, condemning "ever more horrendous cruelty" after the attacks in Bucha.
"The recent news about the war in Ukraine, instead of bringing relief and hope, instead attests to new atrocities, such as the Bucha massacre," Pope Francis said during his weekly general audience.

"Ever more horrendous cruelties, also perpetrated against defenceless civilians, women and children."
9:10AM
The latest intelligence update from the UK's Ministry of Defence says that Russia has continued to strike the southern porty city of Mariupol and most of its 160,000 remaining residents have no light, communication, medicine, heat or water.
8:58AM
President of the European Council Charles Michel has said that the EU must impose oil and gas sanctions on Russia "sooner or later".
Speaking to the European Parliament today, he urged sanctions on Russia's key exports after calling the deaths of civilians in parts of Ukraine war crimes.
He described the deaths as "yet more proof that Russian brutality against the people of Ukraine has no limits".
8:46AM
The government is considering changes to the Fair Deal rules that could free up to 8,000 homes for rental to house Ukrainian refugees.
Housing Minister Darragh O'Brien told Cabinet yesterday that he plans to speed up reform of the Nursing Home Support Scheme (known as the Fair Deal Scheme) to allow people to rent unused, vacant homes without financial penalty.
The scheme provides financial support for people who require long-term nursing home care.
Under the current rules, 80% of rental income for a vacant home is taken by the Government to go towards the cost of nursing home care. The rule change would allow the homeowner to keep the revenue.
8:19AM
Pictured: A mural of President Zelenskyy by the artist Phil Atkinson in Granard, Co Longford

A mural of President Volodymyr Zelenskyy by the artist Phil Atkinson in Granard, Co Longford

Source: PA Images
8:16AM
At a joint sitting of the Houses of the Oireachtas, Ukrainian President Volodymyr Zelenskyy will address the Dáil and the Seanad this morning.
The TDs and Senators will be the most recent audience of one Zelenskyy's many virtual appearances to world parliaments, where he has been rallying support for Ukraine.
The sitting is expected to run for around an hour, including Zelenskyy's speech and approximately 40 minutes of responses from the Taoiseach, the Tánaiste and leaders and representatives from political parties and technical groups.
8:09AM
Good morning. Lauren Boland here – let's look at what's happening in the war in Ukraine today: 
Ukrainian President Volodymyr Zelenskyy will address the Dáil and the Seanad this morning
The US and EU are expected to introduce new sanctions on Russia soon after killings in the town of Bucha
The government is considering changes to the Fair Deal rules that could free up to 8,000 homes for rental as part of its response to house Ukrainian refugees
Writing for The Journal, economist Brian O'Boyle says Ireland could help Ukraine by cutting off the flow of Russian money through the country