Updated 6 minutes ago
VICE PRESIDENT OF the EU Commission, Maros Sefcovic, said British plans to scrap large parts of the  post-Brexit deal on Northern Ireland is "simply unacceptable". 
Sefcovic held talks with UK Foreign Minister Liz Truss this afternoon as British ministers consider whether to override parts of the Protocol.
UK Attorney General Suella Braverman is said to have approved the scrapping of swathes of the agreement, giving UK Prime Minister Boris Johnson legal cover to make the move, despite warnings from Joe Biden's White House and European leaders not to single-handedly meddle with the terms.
In a statement this afternoon, Sefcovic said there is still a "serious concern that the UK government intends to embark on the path of unilateral action".
He said this is despite a series of wide-ranging and impactful solutions proposed by the EU, based on our intensive engagement with all representatives in Northern Ireland.
"These proposals would substantially improve the way the Protocol is implemented. Most recently, in February, we proposed to the UK government an ambitious calendar for intensive discussions on the outstanding practical issues raised by people and businesses in Northern Ireland. We have made clear that there is still potential to be explored in our proposals. We are still awaiting the response from the UK side," he said. 
Sefcovic said that any action by the UK government which would see them act in unilateral fashion is "simply not acceptable". 
He said this would undermine trust between the EU and UK as well as "compromise our ultimate objective – to protect the Good Friday (Belfast) Agreement in all its dimensions, while ensuring legal certainty and predictability for the people and businesses in Northern Ireland".
This morning, Simon Coveney rejected the British Government's suggestion that the EU has refused to compromise on the Northern Ireland Protocol.
Coveney said the UK and the EU can still agree a way forward. He told RTÉ's Morning Ireland: "The EU simply expects that international agreement be honoured and is willing to be extremely flexible in how it is implemented."
The minister rejected the suggestion that the EU has refused to compromise, pointing to proposals from Brussels which he said will significantly reduce some checks in the Irish Sea.
"The EU simply expects that international agreement to be honoured and is willing to be extremely flexible in terms of how it's implemented to try to accommodate what are genuine concerns in Northern Ireland from business people and from the unionist community in particular," Coveney said.
"The majority of MLAs that have been elected to the new Assembly want to see the protocol work. There is a way forward, there is a landing ground," he added.
Coveney said recent rhetoric from the British Government "essentially paints the EU as a body that's inflexible, that doesn't have a mandate for change or compromise or flexibility", adding this "is not reflective of the reality of where we have been over the past number of years".
"We need to respond to genuine unionist concerns in relation to how the Protocol can operate in the future.
"We need to respond to businesses in Northern Ireland to show the flexibility that can allow business between Great Britain and Northern Ireland, which is business within the United Kingdom, to function as smoothly as possible".
Coveney said that "unfortunately what we have is a British Government who is saying 'sorry that's not enough, and if you don't give us everything we're asking for, well then we're going to legislate in domestic legislation to override international law'."
'No need for drama'
Yesterday, Johnson said the Good Friday Agreement was more important than the Northern Ireland Protocol as he dismissed suggestions of any possible escalatory response from the European Union as "crazy".
He said there was no need for "drama" as he doubled down on hints he could override elements of the deal.

UK Prime Minister Boris Johnson at a press conference at the Presidential Palace in Helsinki, Finland.

Source: Alamy Stock Photo
According to The London Times, British Attorney General Suella Braverman had advised that legislation to override the protocol would be legally sound because of the "disproportionate and unreasonable" way it has been implemented by the EU.
She has submitted evidence accusing the EU of undermining the Good Friday Agreement by creating a trade barrier in the Irish Sea, and warned of "societal unrest" in Northern Ireland, the newspaper said.
Northern Ireland minister Conor Burns said yesterday evening that the UK Government would have to take unilateral action over the protocol if it could not resolve issues with the EU.
Speaking to LBC's Tonight With Andrew Marr programme, he said: "If the EU are saying to us that, and they're not, I don't think, yet at the position of saying there's nothing more to talk about, then we will have to take actions to prioritise stability in Northern Ireland, power-sharing in Northern Ireland, to protect the institutions of the Good Friday Agreement, and that will mean intervention unilaterally, yes."
German Chancellor Olaf Scholz has said: "No-one should unilaterally cancel, break or in any way attack the settlement."
The White House stressed the need for talks to continue to resolve the issues, with a spokesman saying: "The best path forward is a pragmatic one that requires courage, co-operation and leadership.
"We urge the parties to continue engaging in dialogue to resolve differences and bring negotiations to a successful conclusion."
Democratic Unionist Party (DUP) leader Jeffrey Donaldson reiterated his call for the Government to take action.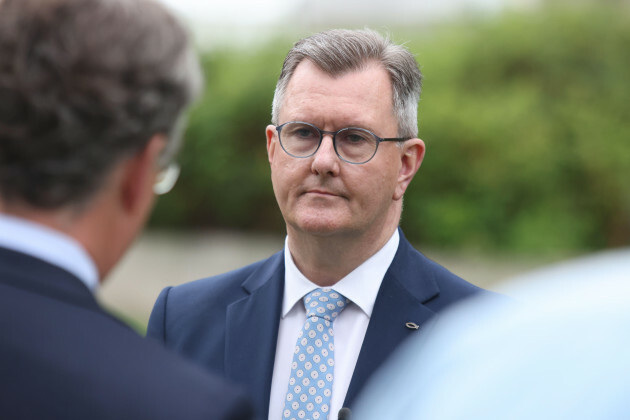 DUP leader Jeffrey Donaldson speaking to media on College Green, central London, following the State Opening of Parliament on Tuesday.

Source: Alamy Stock Photo
He told Sky News show The Take With Sophy Ridge: "The protocol is harming Northern Ireland, it's harming our economy, it is undermining political stability here, so I think in those circumstances, and in order to safeguard the Belfast or Good Friday Agreement and political institutions, the UK Government is well within its rights to act in these circumstances."
DUP MP Sammy Wilson said his party has adopted a wait-and-see approach over what the UK Government will do about the Northern Ireland Protocol.
Wilson said he will not welcome it "until we actually know what the Government intends to do, when it intends to do it, and what impact it is going to have".
Asked whether it is enough for the DUP to nominate a Speaker and ministers during the first sitting of the newly-elected Assembly on Friday, Wilson replied: "Of course it's not, not until we see what is actually proposed.
"We have had these promises before and they haven't been acted on."
Wilson told the BBC: "Ministers are approaching us on a daily basis now, indicating that the Government recognises that the protocol is causing a huge problem, that the EU are imposing the protocol in a way which was never, ever intended, and the Government is getting a bit fed up with that and are now prepared to do some acting.
"Let's face it, we have the implementation of the protocol in the most petty, draconian way by the EU, who are using it simply to teach the UK a lesson."
#Open journalism
No news is bad news
Support The Journal
Your contributions will help us continue
to deliver the stories that are important to you
Sinn Féin has called for a new Stormont Executive to be formed immediately.
MLA Colm Gildernew was speaking following a warning by the British Medical Association and the Royal Colleges that political instability is putting basic service delivery at risk.
"All parties committed to making the transformation of our health service a priority, but health workers need more than commitments and promises, they want all parties around the table in an Executive meeting and working together to deliver," he said.
"That means investing an extra £1 billion into the health service to hire more doctors and nurses, tackle lengthy waiting lists and continue the transformation of health.
"And it means securing the first multi-year budget to ensure that much-needed transformation can begin.
"Sinn Féin is ready to form an Executive today, to nominate ministers and work with others to start the important work that people elected us to do last Thursday."
Alliance MLA Paula Bradshaw said: "The DUP's latest reprehensible power-play, designed to cover up its own failings during the Brexit negotiations as well as for the sake of personal expediency in the case of its leader, is putting thousands of our most vulnerable people at risk.
"The health service cannot be fixed without an Executive in place, taking steps to create a budget and manage work across all departments which will restore truly universal public health provision."
With reporting by Órla Ryan and Garreth MacNamee